Social Erasmus - Your hands make wonders
More than 20 young people (foreign students and Slovak buddies) devoted their Friday afternoon to the children who live in the orphanage in Banská Bystrica. They came there to spend an enjoyable time, to help these awesome guys with the creating of the handmade jewellery and, what is the most important, to share the love and joy with them.
This was one of the SocialErasmus activities named "You can make the miracles happen with your hands", which was well-organized by our SocialErasmus coordinator Dominika Šelengová and National SocialErasmus coordinator Mirka Švábová and it was financed from the European Social Fund within the project KOMPRAX – Competences for practice, which is organized by IUVENTA – Slovak youth institute. 
Anyone who was interested could join. But the number of foreign students who decided to participate surprised us!  Even children were a bit shocked but they enjoyed this "intercultural" visit as time went by. As the age of the children who live in this orphanage is from 11 to 18, there were some language barriers, but what we all proved is, that if there is a will and love in our hearts, we can overcome these barriers and even make nice friendships!  
Our main programme was to make traditional bracelets, earrings and necklaces so the children could remember this day every time they would wear them. Even our boys who participated made an effort and help them to create something beautiful. We also made the posters which show all things that make us happy. Everybody added something so the final result was amazing. We made English and Slovak version. This was really nice, because we could get to know each other more properly, to find out more about our hobbies, attitudes and dreams. And of course, there was an opportunity for children to examine their English and for foreign students to "speak" Slovak.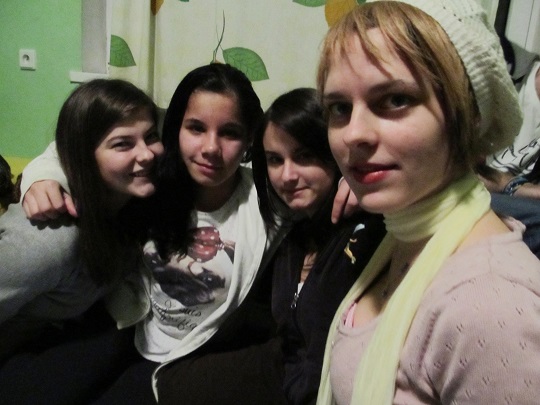 To see the joy in the eyes of children is the best feeling. We did our best to make them smile. They were happy to meet so many young and warm-hearted people from all around of Europe. And these young people were happy to make their day different. It is hard to imagine life in the orphanage for most of us. But we challenged ourselves to experience the atmosphere there and we could see that these children are very smart, generous and thankful! And we - the ESN members are very thankful for our motivated Erasmus students who try to "build the bridge". We hope to see each other very soon on the next SocialErasmus activity!
Zuzana Sliacka
Member of ESN UMB Banská Bystrica